Monte Grappa Shrine
Built in 1935 by architect John Greppi, the shrine of Monte Grappa contains the remains of 12.615 victims of the First World War, of which most unknown. The body of the monument consists of 5 concentric circles, connected by a wide central staircase to five ramps. At the top stands the chapel of the "Madonna del Grappa". In addition to the remains of the soldiers of the Great War in the shrine of Monte Grappa also rests the Italian Marshal Gaetano Giardino.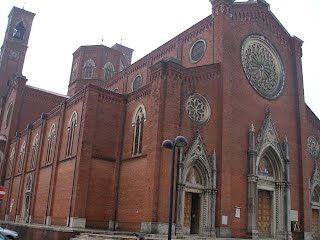 Tempio Ossario
The "Tempio Ossario" of Bassano del Grappa is a military memorial and contains the remains of soldiers who died in the First World War. In the Shrine are buried 5,405 Italian soldiers, all recognized as they died in the field hospitals. These soldiers fought on Monte Grappa in the last year of the war (1917-1918) and most of them were part of the famous "99 boys", young people called to the front to replace the numerous losses (nearly 300 thousand soldiers including deads, deserters, missing and wounded), due to the famous defeat of Caporetto (October-November 1917).
French Shrine of Pederobba
The French Shrine of Pederobba contains the remains of 1,000 french soldiers belonging to the 37th division, which fiercely fought in Italy and that in 30 December 1917 was able to re-conquer Monte Tomba. The shrine remembers the military brotherhood between Italy and France. Wanted by Marshal Petain, it was inaugurated at the same time of the Italian one in Bligny, where there's the resting place of 3,453 italian soldiers fallen in France.